Practice 5: Training: Build a Stratified Suicide Prevention Response Program
Offer a tiered or "stratified" approach to training that builds skills and confidence at different levels of intensity. On a basic level all workers should have access to basic training in suicide prevention awareness and skills. Additionally, they may benefit from on-going training on personal skills like emotional regulation, conflict resolution, stress management, communication skills, financial planning, goal setting, and so on.
At the next tier of the stratified training program specialized training by role for people in a position to offer advanced intervention is often needed. For example, supervisors might need to address people in suicidal despair while also addressing performance issues, or peer supporters might be trained in advanced skills in psychological first aid.
Why is this important and what does this practice entail?
While most employees are willing to "be there" for one another, most employees often say they did not reach out to a coworker in distress because they did not know what to do or they were afraid of what to say. Employees generally lack the confidence and competence to start difficult conversations about mental health and suicide. Thus, a tiered model of on-going and progressive training is needed. At the basic level, workers can learn how to have safe and effective conversations about emotional well-being at work. This training can help coworkers better understand emerging mental health challenges or suicidal intensity and what they can do to help link coworkers to supports. This level of training should also help employees know what resources are available and how to access them.
Watch the Video
Action Steps:
1. Read this article: https://www.constructionexec.com/article/use-a-tiered-approach–to-training-on-suicide-prevention-in-the-workplace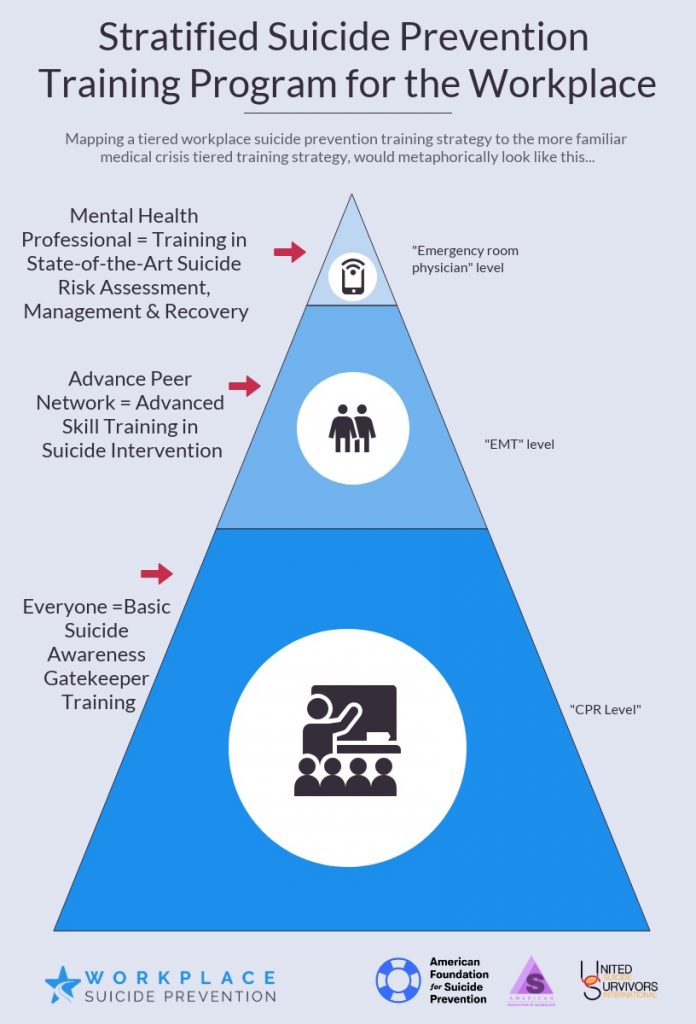 2. Identify one of the following trainings, sign up to take the training and review it for your organization:
• Question, Persuade, Refer: https://qprinstitute.com/
• On-Line: https://qprinstitute.com/employers
• safeTALK: https://www.livingworks.net/safetalk
• Working Minds: https://www.coloradodepressioncenter.org/workingminds/
---
Complete Practice 5 to earn the Training Badge